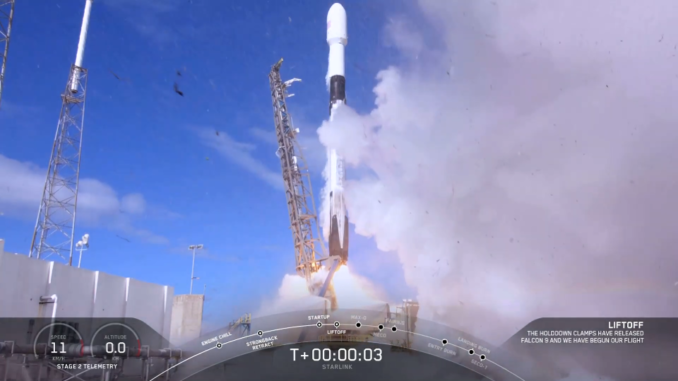 SpaceX has launched its first batch of 60 operational satellites in its Starlink mega constellation, as it prepares to blanket Earth in thousands of satellites and beam internet around the globe.
Monday, November 11 at 9.56 A.M. Eastern Time, a SpaceX Falcon 9 rocket lifted off from Cape Canaveral in Florida with the satellites on board. They will be deployed initially at an altitude of 280 kilometers, undergoing tests to check they are operating properly before being raised to their final orbit of 550 kilometers using their onboard ion thrusters.
Liftoff! pic.twitter.com/Rz6Y4EnEnM

— SpaceX (@SpaceX) November 11, 2019
Almost nine minutes after the launch, the first stage of the booster successfully landed on the drone ship Of Course I Still Love You out in the Atlantic Ocean. Having flown on three missions before, this was the first time a first stage booster of a Falcon 9 had successfully launched and landed four times. This was the 75th Falcon 9 launch overall, and 45th successful landing.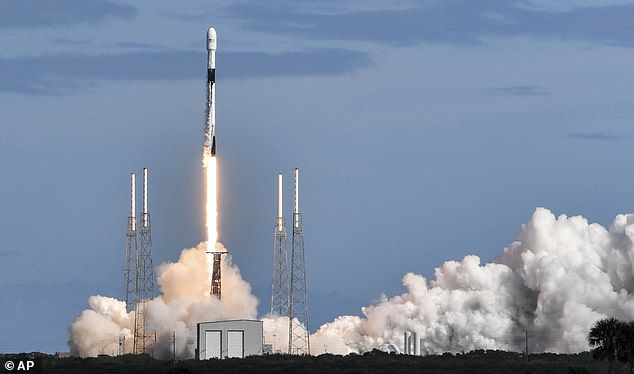 This flight, known as Starlink-1, was the first launch of fully operational satellites in SpaceX's eventual constellation of 42,000 Starlink satellites. The previous launch in May 2019 saw 60 prototype satellites launched, referred to as "version 0.9", with SpaceX testing out some of their capabilities since including their ability to maneuver in orbit.
Each of the satellites are identical, weighing about 260 kilograms and equipped with instruments to relay internet access to the ground via separate ground stations. With a total weight of 15,600 kilograms, this is the heaviest payload SpaceX has ever launched.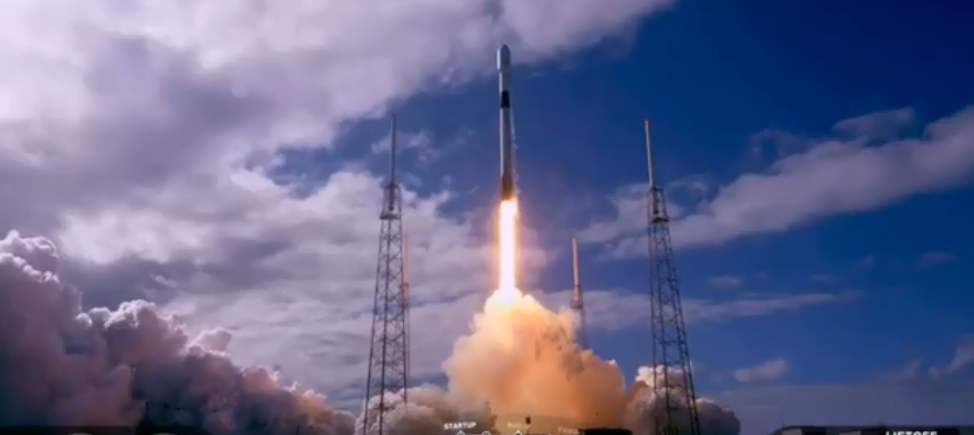 What is SpaceX ?
SpaceX is one of the best-known aerospace companies in the world. Based out of Hawthorne, California in the United States, the business is owned by the billionaire entrepreneur Elon Musk, who is also the CEO of Tesla, Inc.
As a company, SpaceX are already experienced in delivering successful space flight missions, having become the first private company to ever successfully launch and recover a spacecraft. Its other achievements have included: launching a Tesla Roadster into orbit around the sun, and developing a fully reusable launch system.
When it comes to the business's space tourism aspirations, SpaceX announced in 2017 that it intends to send two paying customers on a lunar orbit mission in the near future. In the longer term, the company has extremely ambitious plans to not only put human beings on Mars, but to establish permanent human colonies on the planet.
Crucially, this makes SpaceX the most high-profile space tourism company proposing commercial space flight that will go beyond Earth orbit. However, the extent of these ambitions means SpaceX have not yet announced an official pricing strategy for either lunar or Mars trips, and the company does not have an active waiting list.
Unlike one of its main rivals – Virgin Galactic – SpaceX has not yet started selling tickets for its space tourism offerings and no pricing strategy or waiting list has been announced for its planned trips to the moon.
Nevertheless, when discussing future travel to Mars, Elon Musk has made clear that he is confident the price will eventually be around $500,000 and potentially even as low as $100,000. One of SpaceX's goals is to make travel to Mars affordable enough that people can choose to sell their home on earth and move there permanently.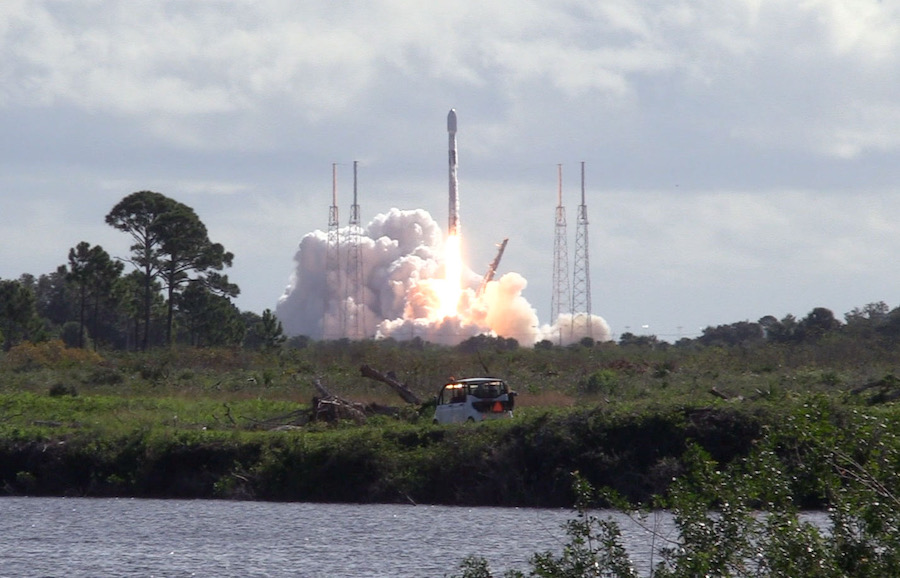 Although this mission brings SpaceX one-step closer to its dream of providing internet access to the world, it is also a milestone for the company.
CEO Elon Musk has long discussed developing reusable fairings and this launch brought that idea to life.
Successful deployment of 60 Starlink satellites confirmed! pic.twitter.com/bpBqO9oYR3

— SpaceX (@SpaceX) November 11, 2019
The team strapped a nose cone that just returned to space last week on the rip of Falcon 9.
Falcon 9 first stage has landed on the Of Course I Still Love You droneship – the fourth launch and landing of this booster pic.twitter.com/qQvH7pwMDO

— SpaceX (@SpaceX) November 11, 2019
Fairing has deployed—second time for this particular fairing pic.twitter.com/FdDIAGcHqI

— SpaceX (@SpaceX) November 11, 2019
Fairing has deployed—second time for this particular fairing pic.twitter.com/FdDIAGcHqI

— SpaceX (@SpaceX) November 11, 2019
SpaceX shared a video on Twitter regarding the fairing's journey back to Earth and wrote in the accompanied post, 'The fairing supporting the mission previously flew on Falcon Heavy's Arabsat-6A mission'.
Cameras attached to the fairing captured the moment it separates from the Arabsat-6A communications satellite in April, as reported by Space.com.
As that spacecraft blasted away, cameras caught a glimpse of the stunning blue curvature of Earth, the blazing sun and the empty void of space.
The fairing made its way safely home and was retrieved from the ocean.
Each satellite in launch weighed about 500 pounds, making this the heaviest SpaceX payload to date.
It will take at least 12 launches of additional satellites to achieve Musk's goal of providing constant internet coverage for most of the world, he said.
Although some have questions the abilities of the Starlink satellites, Musk revealed the technology is working in October.
He posted on Twitter using the high-speed internet – 'Sending this tweet through space via Starlink satellite' and then hours later, confirmed 'it worked'.
The billionaire said he expects revenues from rocket launch services to top out at about $3 billion per year.
That makes Starlink key to generating the cash that SpaceX needs to fund Musk's larger dream of developing new spacecraft capable of flying paying customers to the moon and eventually trying to colonize Mars.
'We think this is a key stepping stone on the way towards establishing a self-sustaining city on Mars and a base on the moon,' said Musk. who is also the chief executive officer of automaker Tesla Inc. as reported by Daily Mail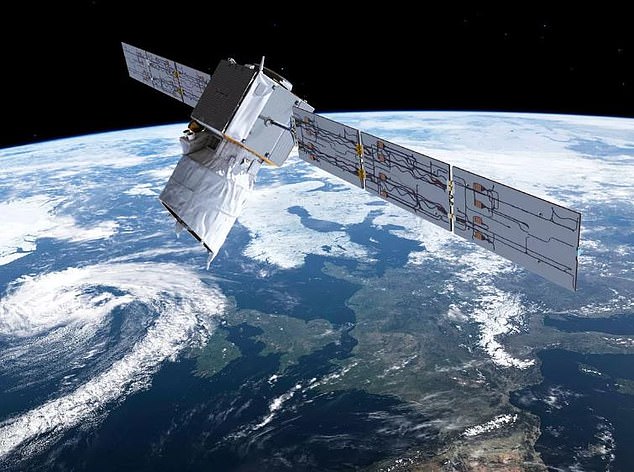 What is starlink and what are its goals?
Elon Musk's SpaceX has launched the first sixty of its 'Starlink' space internet satellites.
They are the first in a constellation of thousands of satellites, designed to provide low-cost broadband internet service from low Earth orbit.
The constellation, informally known as Starlink, and under development at SpaceX's facilities in Redmond, Washington.
Its goal is to beam super fast internet into your home from space.
While satellite internet has been around for a while, it has suffered from high latency and unreliable connections.
Starlink is different. SpaceX says putting a 'constellation' of satellites in low earth orbit would provide high-speed, cable-like internet all over the world.
The billionaire's company wants to create the global system to help it generate more cash.
Musk has previously said the venture could give three billion people who currently do not have access to the internet a cheap way of getting online.
It could also help fund a future city on Mars.
Helping humanity reach the red planet is one of Musk's long-stated aims and was what inspired him to start SpaceX.
The company recently filed plans with the Federal Communications Commission (FCC) to launch 4,425 satellites into orbit above the Earth – three times as many that are currently in operation.
'Once fully deployed, the SpaceX system will pass over virtually all parts of the Earth's surface and therefore, in principle, have the ability to provide ubiquitous global service,' the firm said.
'Every point on the Earth's surface will see, at all times, a SpaceX satellite.'
The network will provide internet access to the US and the rest of the world, it added.
It is expected to take more than five years and $9.8 billion (£7.1bn) of investment, although satellite internet has proved an expensive market in the past and analysts expect the final bill will be higher.
Musk compared the project to 'rebuilding the internet in space', as it would reduce reliance on the existing network of undersea fiber-optic cables which criss-cross the planet.
In the US, the FCC welcomed the scheme as a way to provide internet connections to more people.
On the other hand, Researchers fear that plans to send tens of thousands of communications satellites into orbit will disrupt scientific observations of the Universe.
Please follow and like us: