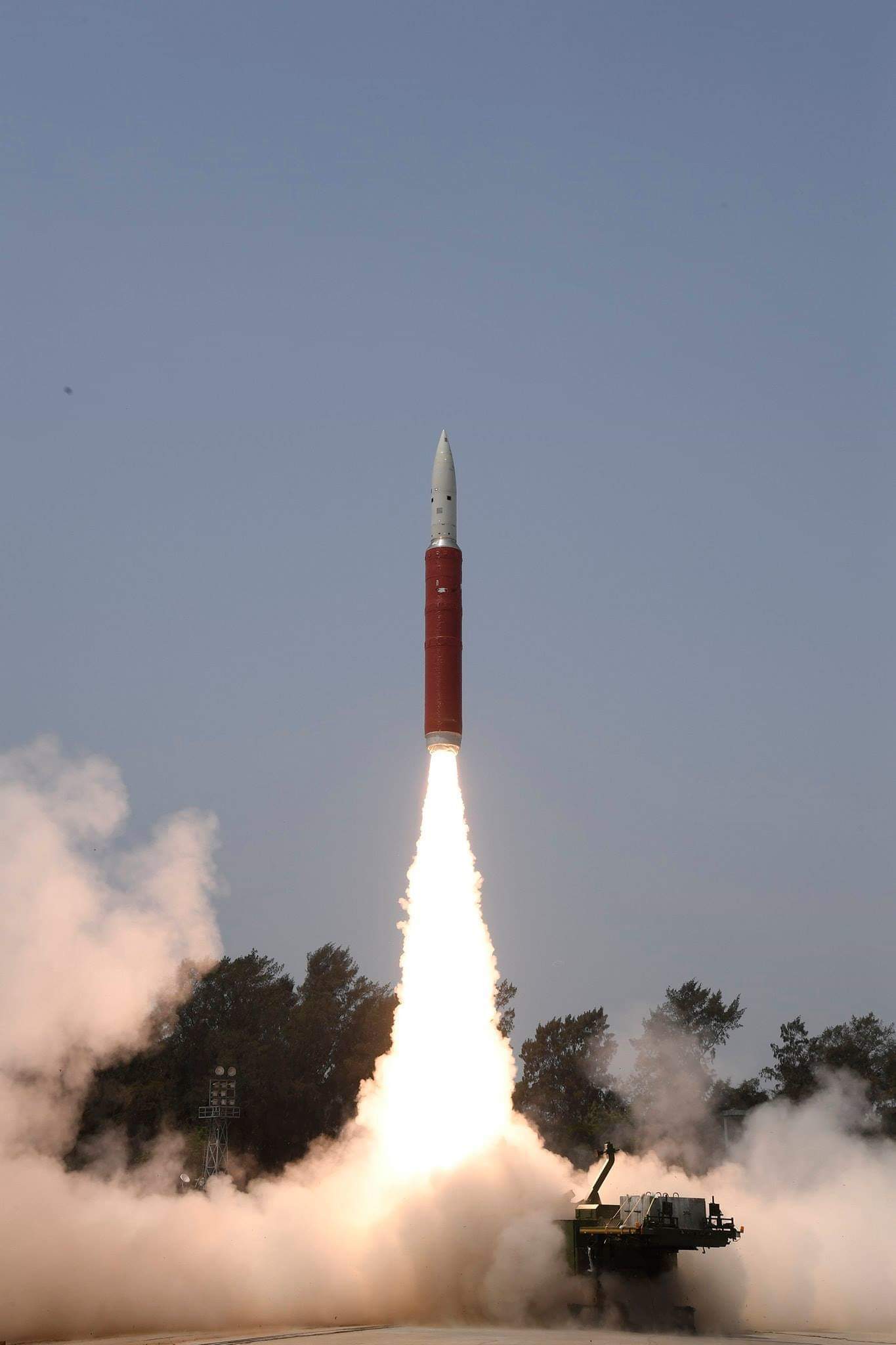 India has become the fourth nation after the US, Russia and China that has the capability to launch missiles to destroy satellites in low-Earth orbit. With the successful test-launch of the anti-satellite (ASAT) missile and destruction of the target today, Prime Minister Narendra Modi in a televised national address said India has crossed an important threshold in demonstrating its capability to defend its space assets.
First photos of the ASAT missile tested today against an Indian LEO satellite.
The missile clearly indicates a combination of the PDV upper stage and the Agni-4 booster.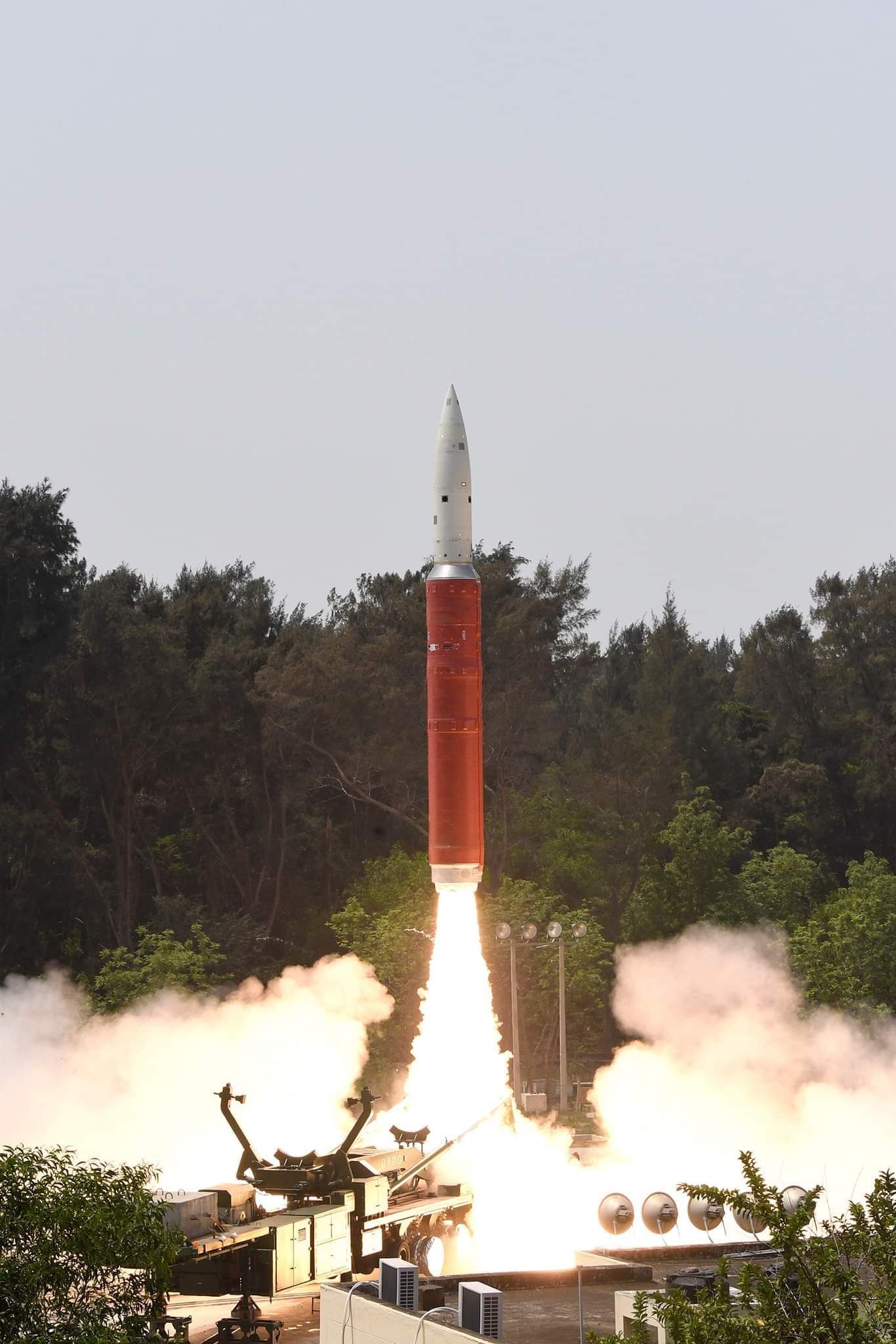 This would be akin to India conducting a surgical strike in space, say scientists.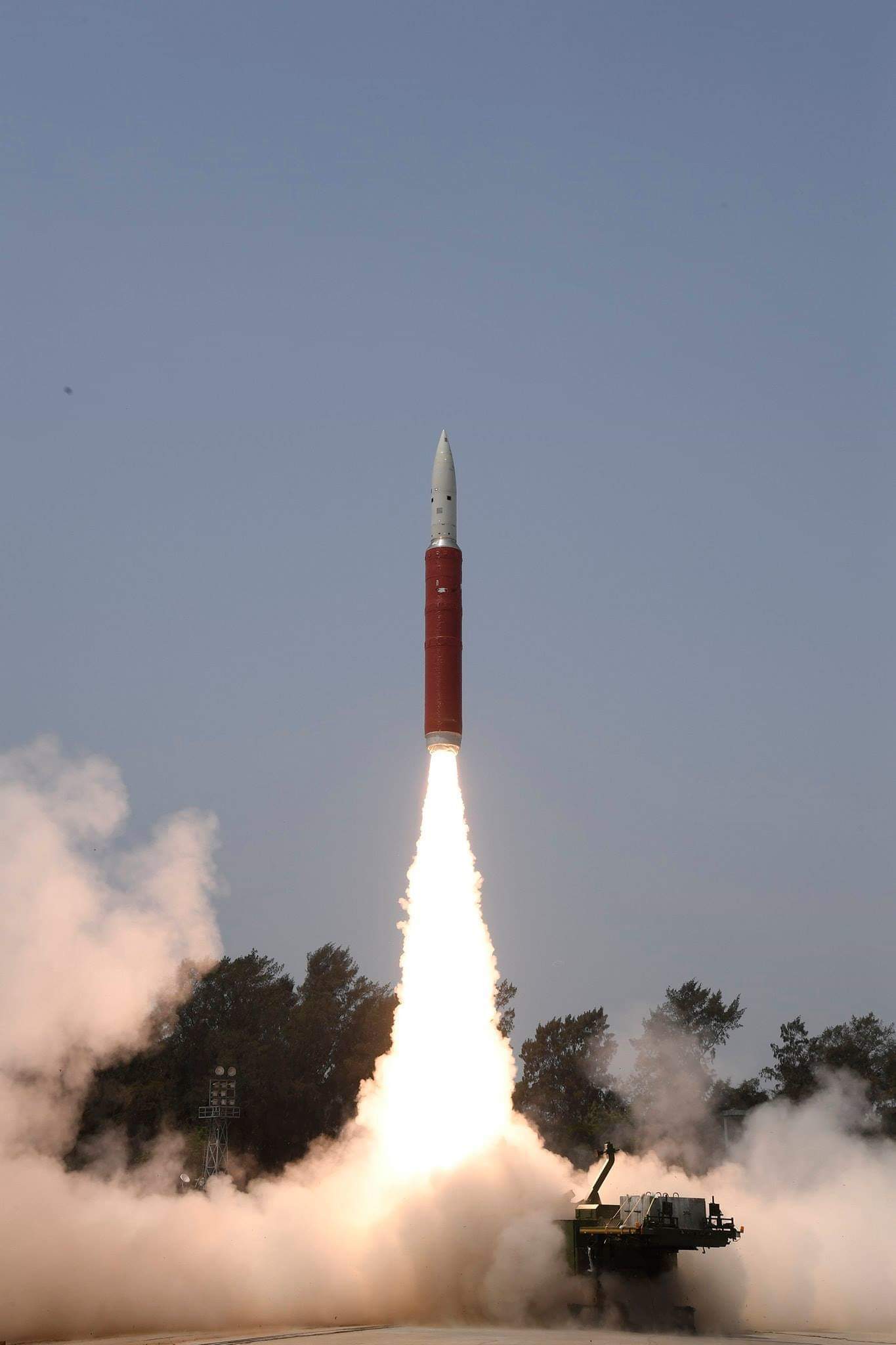 India had 48 orbiting satellites till recently – the largest such constellation in the Indo-Pacific region. They need to be protected as these are "sitting ducks", according to experts. Today's Mission Shakti showed that India was able to actively kill a satellite orbiting at an altitude of 300 kilometres.
which was the Target Satellite?
While PM Modi did not mention the name of the 'target' satellite, this was possibly the satellite called Microsat-R which was launched at an altitude of 277 km by a Polar Satellite Launch Vehicle (PSLV) on January 24 this year. The satellite weighed about 740 kilograms.
During its launch, Indian Space Research Organisation (ISRO) Chairman K Sivan had told that the satellite was for defence research as reported by NDTV.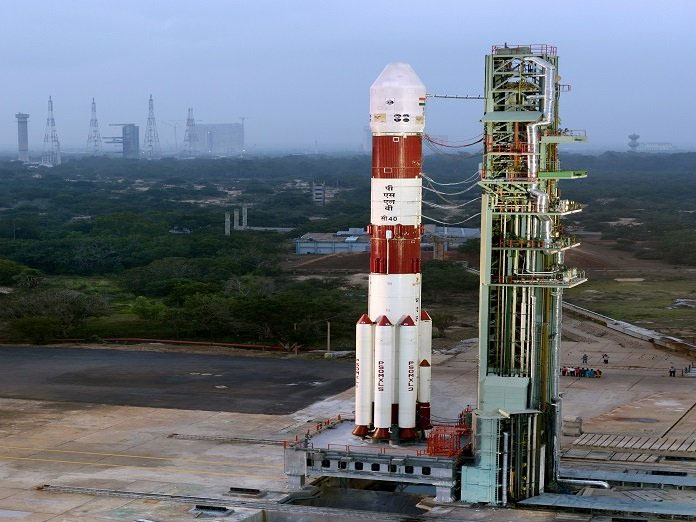 India has had the capability to conduct anti-satellite missile tests for at least 10 years, said a senior scientist of the Defence Research and Development Organisation (DRDO) who asked not to be named as reported by NDTV.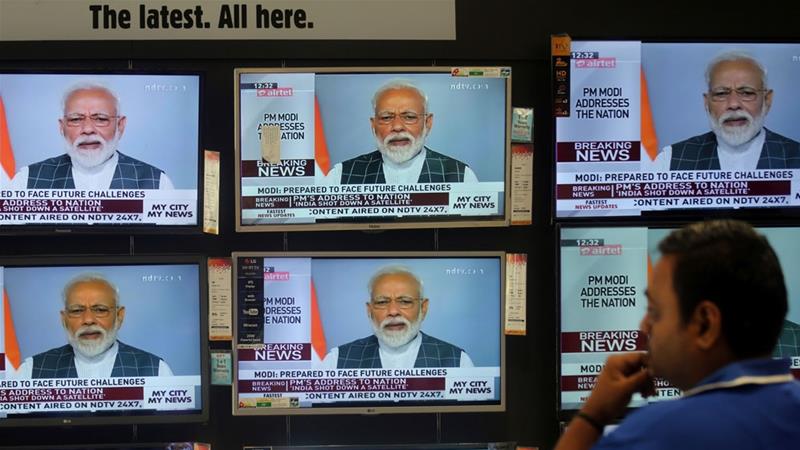 Why It's a big challenge to hit the target?
Bringing down a satellite in high altitude is not easy since the satellite would have been traveling at a velocity of hundreds of kilometres per hour; to accurately target such a small speck is a big challenge. It is like shooting a bullet at another bullet from a distance of 300 km.
Will it create space debris?
Nations worry that such tests will cause space debris that poses problems for other satellites. There was much criticism of an ASAT missile test by China in 2007 as it scattered hundreds of pieces of space debris.
India's test done at an altitude of 300 km may not leave space debris for too long, said G Madhavan Nair, former chairman of ISRO.
In 2012, when India conducted its first test of the Agni-5 missile from Dr Abdul Kalam Island, formerly Wheeler Island, the country has had a capability to kill satellites. The Agni-5 is an inter-continental ballistic missile with a range of over 5,000 km and the then chef of DRDO, VK Saraswat, had confirmed that it can be used both to launch satellites and bring down satellites if required in times of emergency.
In all probability, India has used a new missile system that can target fast-moving satellites and bring them down. India had already demonstrated the capability by launching missile interception tests where an incoming missile was brought down in exo-atmospheric conditions.
In the journey of every nation there are moments that bring utmost pride and have a historic impact on generations to come.

One such moment is today.

India has successfully tested the Anti-Satellite (ASAT) Missile. Congratulations to everyone on the success of #MissionShakti.

— Narendra Modi (@narendramodi) March 27, 2019
India had anti-satellite missile capability in 2007, but no political will: Ex-ISRO chairman
Former ISRO chairman G Madhavan Nair said on Wednesday that India had the anti-satellite missile capability more than a decade ago but there was no political will at the time to demonstrate it.
He said when China shot down an ageing weather satellite by launching a missile in 2007, India had the technology to undertake a similar mission.
"…now (Prime Minister Narendra) Modiji has taken the initiative and he had the political will and courage to say that we will do this. We have now demonstrated this to whole world," Nair said, as reported by  PTI.
Congratulations to #DRDO for successful testing of the Anti-Satellite (A-Sat) Missile. @DRDO_India's brilliant run continues. The success of #MissionShakti is a proud moment for all Indians, an achievement that further strengthens our strategic capabilities.
Jai Hind!

— Pranab Mukherjee (@CitiznMukherjee) March 27, 2019
He had headed the ISRO (Indian Space Research Organisation), Space Commission and was Secretary in the Department of Space from 2003 to 2009.
Asked if India could have demonstrated the anti-satellite missile capability in 2007 itself, Nair said "certainly", but it could not be done due to absence of "political decision" to go ahead with it at that time.
"Now, Modiji has courageously taken the decision," he said.
The prime minister on Wednesday announced India had demonstrated the capability by shooting down a live satellite, describing it as a rare achievement that puts the country in an exclusive club of space superpowers.
On one hand the whole country is celebrating this achievement, on the other hand opposition is trying to politicize the events as the General Elections are approaching
Congress president Rahul Gandhi termed it as "Theatre", Mamata Banerjee called it "limitless drama" and Samajwadi Party chief Akhilesh Yadav went a step ahead and stated that "China has done this before us". Moreover, Former Defence Minister under the UPA government AK Antony, who served the position from 2006-2014, said that he was not informed about A-SAT operation.
As reported by Republic TV, former Defence Minister under the UPA government AK Antony, who held the post between 2006 and 2014, said that he was not informed of the 'Mission Shakti' during that time.
Well done DRDO, extremely proud of your work.

I would also like to wish the PM a very happy World Theatre Day.

— Rahul Gandhi (@RahulGandhi) March 27, 2019
"I was not told by anybody about it. I was not told it started," the former Defence Minister under UPA government said.
On being questioned about the claims made by senior Congress leader Mallikarjun Kharge saying that the mission was ready in 2012 but the scientists could not test it during that (2012-2013) time, he reiterated saying that he was not informed about the mission by the then government. AK Antony further refused to comment about Kharge's statement, adding that he did not want to politicise the matter.
"Nobody told me if we were ready for this test under UPA. You can ask the Defence Secretary and check the records. I wasn't told about this. I don't want to politicise it, I wasn't aware of the space warfare programme," he added on being questioned about Kharge's claims.
Responding on India's remarkable achievement of becoming a space superpower after the successful completion of 'Mission Shakti' under PM Modi's leadership, senior Congress leader Mallikarjun Kharge had claimed that the Mission was ready during the UPA tenure as well. However, they could not go forward with it due to some reasons, which he did not disclose.
"This was ready in 2012 but could not be used at that time. It was ready that time only but now it is being tested. I can only say that the people who were involved during the making of this, I am thankful to them," Kharge had said.
Antony's remarks come in contradiction to the disclosure made by VK Saraswat, who was the DRDO chief during the UPA government, saying that India was ready to launch the mission during that time, however, the UPA government had blocked the Mission. Earlier, in an exclusive interview with Republic TV, former DRDO chief VK Saraswat had revealed that in 2012 and 2013, the UPA government had blocked 'Mission Shakti' even though the DRDO was ready with the necessary steps.
"We had already complete the stimulation process. We wanted to combine the capabilities of our Ballistic missile system and the developed capabilities of AGNI program to get results in the same direction. However, we still had to develop certain technology for which we wanted resources and permission. But no such permission was granted to us during 2012-13 and even 2014. But under the leadership of PM Modi and National Security Advisor Ajit Doval, we were able to get all the required permission. The DRDO set the integration, realisation and demonstration," VK Saraswat said.
Union Minister Arun Jaitley hit back at the opposition for what he called "clerical objections", pointing out that India's nuclear programme was on 365 days, regardless of elections. Mission Shakti, he said, "shows that India today is in safe hands".
Anti-satellite weapons are considered an ultimate weapon since it can easily cripple a country as the global economy is so heavily dependent on satellites, from running banks and ATMs to communication links.
For the Indian Space Research Organisation, the year 2019 is significant in many counts. 2019 will witness some crucial preparations to hold the first unmanned (without astronaut) mission of Gaganyaan, slated to be held in December 2020 and the second unmanned mission in July 2021, which will be followed by the first Gaganyaan mission with astronauts in December 2021. Further, the year marks the 100th birth anniversary of its visionary leader Dr Vikram Sarabhai and the 50th year of its first successful test flight of an Indigenous Sounding Rocket RH-75 from Thumba, using in-house developed composite solid propellant.
A landmark achievement in the history of the ISRO and the premier institution then contributed significantly towards enabling the country to fulfil the vision of harnessing space technology for national development from this strong edifice of composite solid propellant technology, a major breakthrough which still helps the R&D institution to hold its untiring pursuit of space research and planetary exploration.
The composite solid propellant for the sounding rocket was named 'Mrinal', reportedly after Mrinalini Sarabhai, the classical dancer and wife of Vikram Sarabhai. It was used to launch the sounding rocket, designated as Dynamic Test Vehicle, DTV-75, on February 21, 1969, heralding the development of indigenous solid propellant technology in the country. Sounding rockets are experimental rockets, carrying a scientific payload for conducting research during suborbital flight.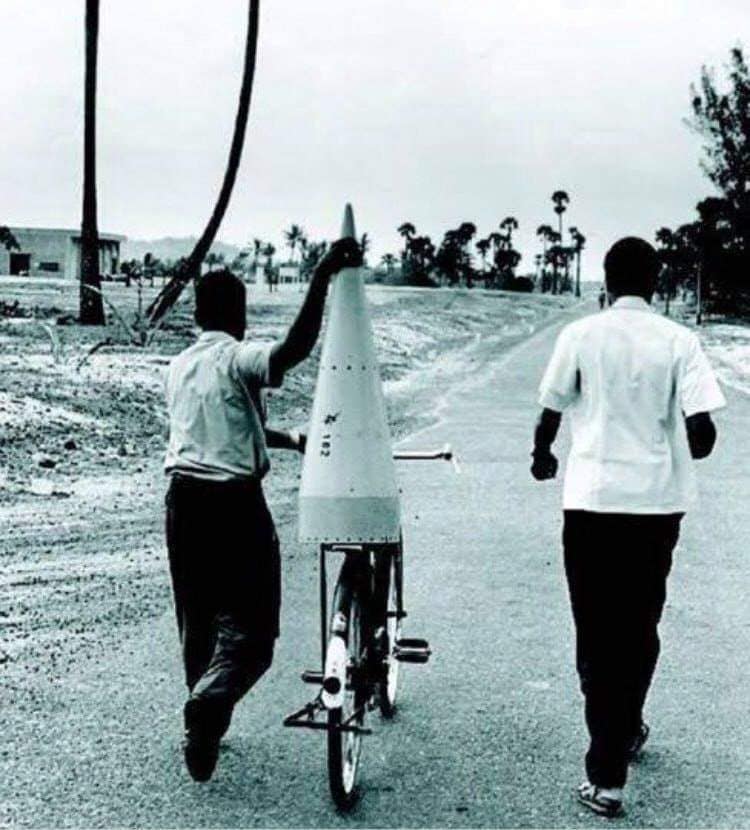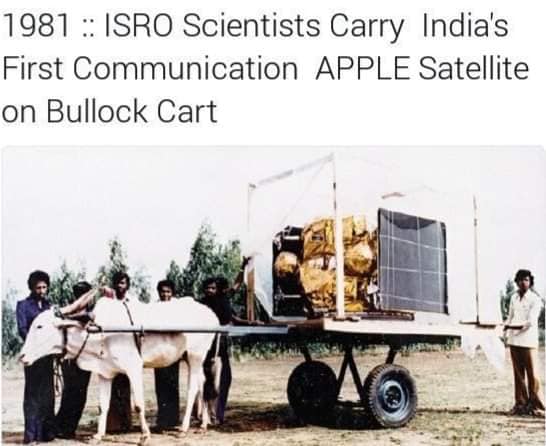 It was under the leadership of R Gowarikar in the Propellant Engineering Division (PED) at Veli then known as SSTC the work on composite propellants was initiated for rockets. According to ISRO officers, the nature of the development being strategic in nature and due to lack of open literature, it was essential to design each experiment with caution.
Several experiments were conducted in the initial phase with the available raw materials consisting of polyester resin, ammonium perchlorate and aluminium powder. Finally a composition was found to work in static firing which had nitroglycerine added to improve its energy and processability. This was a major breakthrough in the nation's composite propellant programme for processing large solid motors.
In 50 years, the ISRO has progressed to the 'golden era' of launch vehicles starting from the humble beginnings of launching small sounding rockets to Launch Vehicles such as PSLV, GSLV Mk 2 & GSLV Mk 3. Today ISRO has the capability to launch 4 Tonne class using GSLV MK3. This has been possible due the development of the mammoth S200 solid booster that powers the initial moments of the flight regime of GSLV MK3.
Please follow and like us: